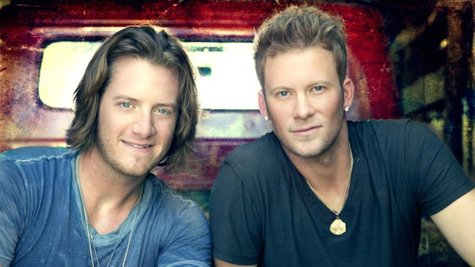 Florida Georgia Line celebrated their first #1 hit, "Cruise," with a party in Nashville Tuesday. The duo's Brian Kelley and Tyler Hubbard were still doing manual labor this time last year, and Brian admits it's a bit crazy to have your first single hit the top of the charts.
He says, "It's a surreal feeling. It really is because we just started writing songs on the back of Tyler's tailgate."
Back then, the guys were just trying to write the best songs they could. Though their rise to the top seems fast in some ways, the duo paid their dues before "Cruise" put them on the map.
"We worked a lot of different jobs and a lot of different things," Brian says of their pre-fame days. "Played a lot of different places that we were like, 'Why are we even here? Nobody's here, you know?' Just some weird gigs."
Though they're still happy to play wherever they can, Brian and Tyler are now performing for sold-out crowds on Luke Bryan 's Dirt Road Diaries tour. Check out FloridaGeorgiaLine.com for dates.
Copyright 2013 ABC News Radio