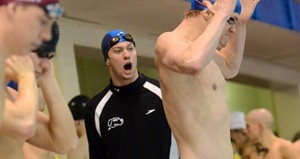 LA CROSSE, WI (UWSP) - The
UW-Stevens Point men's swimming and diving team
topped UW-La Crosse 132-111 while the Pointer women came up short against the Eagles, 184-59.
Results
Joey Clapp
(Faribault, MN) and
Joe Gendron
(West Lafayette, IN)placed first and second respectively in the men's 50 yard freestyle. Clapp finished in 20.80, Gendron in 22.07.In the men's 100 yard backstroke
Ryan Farmer
(Naperville, IL)and
Eric Emerson
(River Falls, WI) also finished first and second respectively for UWSP. Farmer came in with a time of 48.50 and Emerson came in with a time of 48.57.On the women's side the Poitners'
Andrea Wagner
(Apple Valley, MN) won the 100 yard freestyle with a time of 54.10.The UWSP men and women will compete in the Minnesota Challengein Minneapolis, Minn. beginning Friday, Feb. 8.