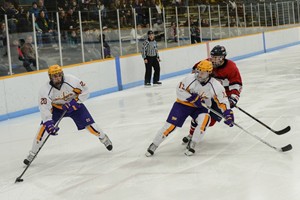 RIVER FALLS, WI (UWSP) - Four different Pointers scored as the
UW-Stevens Point men's hockey team skated past the Falcons
5-2 Friday evening.
Box Score
Joshua Daley
(Pittsburgh, PA) got the Pointers on the board just over a minute into the game, scoring off the stick of
Garrett Ladd
(Fenton, MI). Five minutes later
Johnny Meo
(Vernon Hills, IL/Ursuline) scored his eighth goal of the season to give UWSP the early 2-0 lead. The Falcons cut the deficit in half, scoring a late first period goal. The Pointers continued to dominate in the second period as Daley tallied his second goal of the evening and
Scott Henegar
(Trenton, MI/Trenton) gave UWSP the 4-1 advantage. Midway through the third,
Evan Dixon
(Novi, MI) capped off the Pointers scoring as he tallied his fifth goal of the season.
Nick Graves
(Hewitt, WI/Ashwaubenon) earned the win in net, tallying 32 saves in the contest. The Falcons used two different goalies in the contest to combine for 30 saves. UWSP returns to action Saturday, Jan. 26 at it hosts UW-Eau Claire at 7 p.m. for White Out Night.