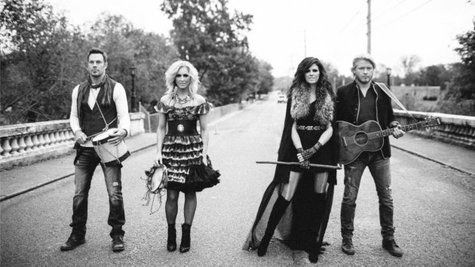 Little Big Town 's latest hit, "Tornado," tells the story of a woman getting back at her no-good man, and the group's Karen Fairchild gets a kick out of seeing their female fans take to Twitter about the song. Most commonly they'll tweet some of the lyrics like "I'm a tornado" or "I'm gonna lift this house, spin it all around, toss it in the air and put it in the ground."
Karen says of those posts, "You just know there's something not good going on at their house that day, and they need a theme song, and they need something that they can identify with."
Her band mate Kimberly Schlapman chimes in saying, "They're living vicariously through what you're expressin'."
Though "Tornado" includes some violent imagery in the lyrics, Karen adds, "It's fun. We don't take it too seriously. I think we all feel like a tornado sometimes."
Little Big Town launches their Tornado tour January 31 in Murray, KY with special guest Kacey Musgraves .
Copyright 2013 ABC News Radio