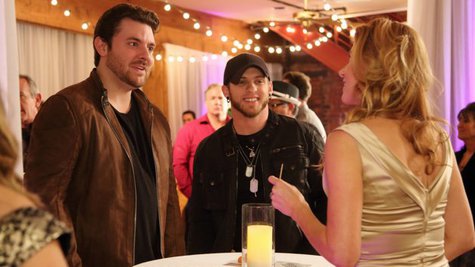 A pair of real-life country stars are invading the fictional world of ABC's Nashville Wednesday night. Brantley Gilbert and Chris Young guest star as themselves in a party scene on the show alongside Hayden Panettiere 's character, country star Juliette Barnes.
Before taking on the acting role, Brantley consulted with his personal acting coach - - fiancé Jana Kramer . She starred in TV's One Tree Hill before launching her country career , and Brantley says with a laugh, "She definitely had some pointers but, you know, the part was playing myself so it wasn't all that hard."
Brantley didn't take his part on the show lightly though, and he came in well-prepared.
"You've got to get it right the first time around," Brantley says. "They gotta reset every time you screw up, so thankfully I didn't screw up."
Like any video or TV shoot, Brantley and Chris had a lot of downtime on the Nashville set, but the guys took the opportunity to really bond over their music.
Says Brantley, "We had plenty of time to talk and get to know each other and even talked about getting together on a song sometime in the near future."
The episode of Nashville featuring Brantley and Chris airs Wednesday night at 10 Eastern time on ABC.
Copyright 2013 ABC News Radio