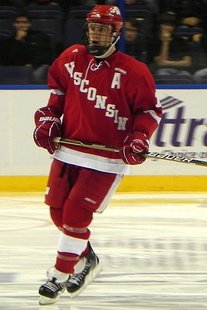 MADISON, WI (WSAU) The Wisconsin men's hockey team has returned to the Top-20 in the U-S College Hockey Online poll. The Badgers are at Number-20 – their first ranking since October eighth – after they split a pair from Miami-of-Ohio during the weekend.
The Badgers had not lost a game in almost two months before falling to the Red-Hawks 2-to-1 on Saturday night in Madison. That was after the Badgers pulled out a 1-nothing win on Friday.
Miami also rose two spots to Number-six in the new poll, despite its split with the Badgers. Miami is 13-6-and-5 overall, while Wisconsin is at 9-8-and-5. In Division-Three, Saint Norbert dropped from first place to second in the new men's College Hockey Online poll. The Green Knights are at 15-3-and-1. Norwich of Connecticut moved back into the top spot, which it's held for most of the season. They're 14-and-2.
U-W Eau Claire remains at Number-six. And after being out of the poll for just one week, the Milwaukee School of Engineering returns in a tie for 15th. U-W Superior, Stevens Point, and Stout also received votes.