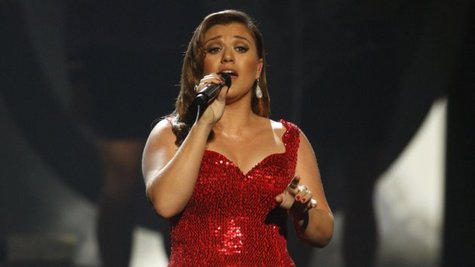 Along with Beyonce and James Taylor , Kelly Clarkson is one of the performers who'll be singing at President Barack Obama 's second inauguration on Monday. She'll be belting out "My Country 'Tis of Thee," and has said that she's planning a special arrangement of the song for the occasion. Mostly, though, Kelly says she's proud to have been invited to participate in the event.
"I'm kind of a history nerd," she says. "And you know, we've had so many inaugurations [that] you lose sight of the fact of how pivotal that moment in our history was and how cool it is now." She thinks Monday's inauguration is "especially pivotal," because of all the challenges we're currently facing in our society.
"I'm very excited," Kelly adds. "We're such a young country. We have a very young history. So...it's a big deal."
On top of that, Kelly says she's happy to be involved because she's an Obama supporter. "I'm proud because I voted the past two terms for him," she explains. "So I'm proud to be able to, you know, sing for the guy that I think will do a great job."
However, the inauguration will not be the first time that Kelly's ever met President Obama. It turns out that she actually was asked to introduce him at an event in 2006, when he was just a senator from Illinois. At the time, Obama had just won a Grammy for the spoken word recording of his book Dreams from My Father , and Kelly says that she was supposed to mention that in her intro, but botched it completely.
"I hadn't heard of him or his book, 'cause I don't live in Chicago, I just didn't know him and I didn't know the book he wrote and I kinda screwed all of that up while introducing him," she laughs. "And, when I say screwed it up, I mean it was painful." Kelly says she wanted to apologize, but was talked out of it.
"I was, like, so distraught." she recalls. "I was like, 'I can't believe I just completely embarrassed him in front of his peers.' I wanted to say something to him, and they wouldn't let me. And then my tour manager at the time goes, 'It's fine. He doesn't care. It's never gonna be a thing.'"
Kelly laughs, "Yeah. Literally, months later, he's going out for president!"
Copyright 2013 ABC News Radio