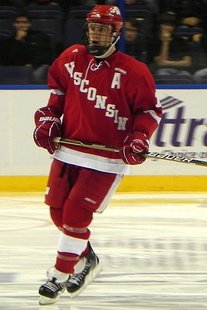 MADISON, WI (WSAU) Goalie Joel Rumpel blanked Miami of Ohio as the Wisconsin men's hockey team won its seventh game in a row, 1-0, Friday night. Rumpel stopped 26 shots.
Joseph LaBatte scored the only goal of the game for the Badgers in the third period. Wisconsin is unbeaten in its last 11 games and has never lost to Miami.
The Badgers record improves to 9-7-5, while the eighth-ranked Redhawks lost their fourth consecutive game this season.
The two teams wrap up the weekend series tonight at the Kohl Center in Madison. Despite a 3-0 loss at North Dakota, the Wisconsin women's hockey team holds on to second place in the WCHA. The loss ends a 12-game Badger winning streak against North Dakota.
U.S. Olympian Jocelyne Lamoureaux scored two goals in the final three minutes to put the game out of reach, but it was a score in the first period which provided the winning margin. North Dakota outshot the visitors at Ralph Engelstad Arena in Grand Forks, 30-19
. Wisconsin's record falls to 14-7-2, including 10-7-2 in conference play.