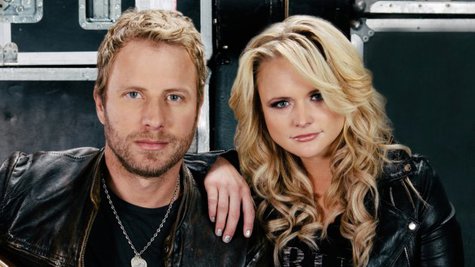 Miranda Lambert first approached Dierks Bentley about hitting the road on the Locked & Reloaded tour in -- where else? -- a bar. The two were having a few drinks in Las Vegas when Miranda suggested they revisit their 2006 tour together, which was called Locked & Loaded. Back then, Miranda was Dierks' opening act, but this time around they'll both play full sets before joining each other for collaborations at the end of the night.
Dierks says of their collaborations, "We're gonna do some country stuff. Some unexpected stuff. Some rock stuff, but it's just gonna be a combination of different things." He adds, "We really want to do some things that the fans would expect, but also some things they might not expect to hear."
Dierks also promises his fans more bells and whistles on stage than he's ever had before. He has a brand-new set and more video content than he's ever had in his shows up to this point.
Speaking about his thought process going into this tour, Dierks says, "Let's pretend this is the last tour we're ever gonna do. What would we do? Well, we'd have a killer set that we can climb around on and shoot lights through and make it something really exciting and new for us and for our fans."
Dierks and his band and crew are also looking forward to getting in the groove of a structured tour again. Last year, Dierks played a lot of different types of shows in the U.S. and abroad, and he's looking forward to consistency with this new trek.
He says, "It's just really fun to be on, like, a consistent kind of deal every night and really be able to put forth the kind of show that we sit on the bus talking about until 3 or 4 o'clock in the morning."
For a complete list of Locked & Reloaded tour dates go to Dierks.com or MirandaLambert.com .
Copyright 2013 ABC News Radio