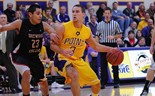 STEVENS POINT, Wis. – Four Pointers scored in double figures as the UW-Stevens Point men's basketball team defeated UW-River Falls 82-65 in a Wisconsin Intercollegiate Athletic Conference matchup Thursday night.
The Pointers (11-2, 4-0 WIAC) claimed a 12 point lead midway through the second half when Devon Jackson connected from behind the arc to put the Pointers up 26-14. UWSP maintained a double-digit lead for the rest of the game.
UWSP shot 62.5 percent from the floor in the first half en route to taking a 49-29 lead into halftime. The 49 points is the most scored by the Pointers in any half this season.
With just over 10 minutes remaining in the second half, a three pointer by Trevor Hass (New London, WI/New London/Augustana (SD)) increased the Pointer lead to a game-high 22 points at 66-44.
Hass led the Pointers in scoring with 18 points while Jackson added 16 off the bench.
Jackson also recorded four steals as the Pointer defense forced 20 turnovers.
Jordan Giordana (Kaukauna, WI/Kaukauna) and Joe Ritchay (Wisconsin Rapids, WI/Lincoln) chipped in with 12 and 10 points, respectively.
The Falcons' (5-8, 0-4 WIAC) Zach Peterson led all scorers with 20 points.
UWSP continues its WIAC schedule when it travels to UW-Eau Claire Saturday, Jan. 5 for a 3 p.m. tipoff with the Blugolds.
This link takes you to UW-Stevens Point Athletics web page: Pointers back on winning track, defeat UW-River Falls 82-65