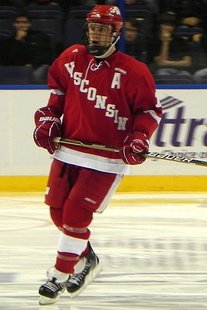 ANCHORAGE, ALASKA (WSAU) The Wisconsin men's hockey team returns from its holiday break with a two-game series at Alaska-Anchorage tonight and tomorrow night. The Badgers have not played since December 14th, and they hope to continue a six-game unbeaten streak that includes three ties. Wisconsin is 4-7-and-5 overall, and 2-5-and-5 in the W-C-H-A.
The Badgers are coming off their first series sweep of the year over Alabama-Huntsville by a combined score of 9-to-1. Tonight, Wisconsin faces an Alaska-Anchorage team that's 1-8-and-3 in the conference and 3-9-and-4 overall. The Badgers have won 11-of-their-last-12 games against the Seawolves.
The U-W will be without defenseman Jake McCabe, who's the captain for the U-S squad at the World Junior Championships in Russia. The U-S will play Sweden tomorrow morning for the tournament title.
Meanwhile, the Badger women's hockey team will play a home exhibition tonight against the Minnesota Whitecaps before returning to league play next weekend.