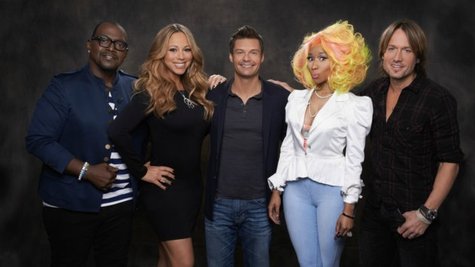 Most of the headlines so far out of the American Idol auditions for season 12 have revolved around the verbal spats between judges Nicki Minaj and Mariah Carey . However, their fellow judge Keith Urban assures fans the panel has managed to find some good talent for the new season, despite the discord.
Keith says, "There's just been a few people that have come through that I think I'm looking forward to seeing them evolve through the show."
While some singers come into the auditions ready to blow the competition away, Keith is more interested in the diamonds in the rough. He points to Carrie Underwood as an example of someone who really came into their own during the American Idol competition.
Keith knows those undeveloped singers have to go through some criticism at first, but the payoff of watching them succeed in the end is worth it. He says, "That's really good, not only good television, but it's pretty miraculous watching an artist emerge."
American Idol 's new season premieres Wednesday, January 16 at 8 p.m. ET on Fox.
Copyright 2013 ABC News Radio