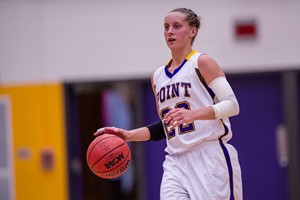 MADISON, WI (UWSP) - UW-Stevens Point women's basketball guardSam Barber (Schofield, WI/D.C. Everest/Winona St.) has been named the 2012-13 Wisconsin Intercollegiate Athletic Conference (WIAC) Player of the Year for the second straight season.
"When I found out I actually got really excited. I didn't know that anything in conference was released yet. But I really worked hard for it, I didn't want to get it my junior year and then let down the team my senior year," says Barber. "It has been one of my individual goals since last year's player of the year was released. Overall I'm really happy and I couldn't thank my coaches and teammates enough."
Barber has led the Pointers this season averaging 18.7 points per game and scoring in double figures in every game but one. She ranks in the top five in the WIAC in scoring, rebounding, field goal percentage, three-point field goal percentage, three-point field goals made and blocked shots.
Barber currently ranks seventh on the UW-Stevens Point women's basketball all-time scoring list with 1,280 career points. On Jan. 5 she tallied her 1,000 career point in a win over UW-Eau Claire.