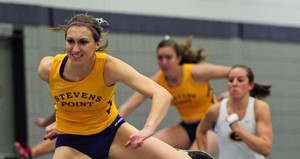 MADISON, WI (UWSP) - University of Wisconsin-Stevens Point's Erin Kline (Casco, WI/Luxemburg-Casco) has been selected the recipient of the 2013 Wisconsin Intercollegiate Athletic Conference (WIAC) Judy Kruckman Women's Indoor Track & Field Scholar-Athlete Award.
A senior from Casco, Wis. (Luxemburg-Casco), Kline owns a 3.77 grade point average and is majoring in biology. She was named to the United States Track & Field and Cross Country Coaches Association All-Academic Team in 2010, 2011 and 2012.
Kline is a three-time member of the WIAC Scholastic Honor Roll and been recognized on UW-Stevens Point's Dean's List on numerous occasions.She established a WIAC record while capturing the 60-meter hurdle title at the 2012 WIAC Indoor Track & Field Championships and is a two-time national qualifier in that event.
Kline holds school records in both the 55-meter and 60-meter hurdle events. She was selected her team's Most Valuable Player in 2012 and team captain for the 2011 and 2012 seasons.
Kline is a member of the Wisconsin Society for Ornithology and has volunteered with the Salvation Army and the Eastbay "Pink" Meet to raise funds for cancer care. She has also worked in her institution's track & field and volleyball offices and as a campus lifeguard.
Also nominated for this year's scholar-athlete award were: UW-Eau Claire's Ashlyn Mauer (Sr., Sheboygan Falls, Wis.), UW-La Crosse's Becky Scheuermann (Sr., Eau Claire, Wis./Regis), UW-Oshkosh's McKenzie Kelly (Sr., New Richmond, Wis.), UW-Platteville's Diedre Dillman (Sr., Prairie du Chien, Wis.), UW-River Falls' Lindsay Knoebel (Sr., Helenville, Wis./Jefferson); and UW-Whitewater's Alyssa Duncan (Sr., East Troy, Wis.).
The WIAC Scholar-Athlete Award is named after Judy Kruckman who served as Assistant Commissioner for the WIAC from 1996-98. Prior to this appointment, she was Commissioner of the Wisconsin Women's Intercollegiate Athletic Conference (WWIAC) from October 1984 - September 1996. Kruckman was the women's athletics director at UW-Eau Claire from 1974-84, and one of the original representatives to the WWIAC when it formed in 1971.
In order to be nominated for the scholar-athlete award, a student-athlete must have a minimum 3.50 grade point average. In addition, she must be in her last year of competition, or on schedule to graduate this academic year, and have competed for a minimum of two years.