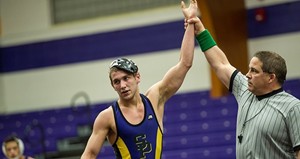 STEVENS POINT, WI (UWSP) -
Augsburg College built an early 15-0 lead and the Pointers could not recover,
falling 18-15 to the Auggies in the final dual of the season in Berg Gym. UW-Stevens Point fell behind early with narrow losses at 197 and 285-pounds.After dropping the first four matches, the Pointers began to work their way back into the dual, thanks to wins by
Jordan Kust
(Clintonville, WI/Shawano),
Ben Strobel
(Neenah, WI/Neenah)and Jamey Simons. After the three straight wins the Pointers trailed just 15-9.A win at 165-pounds by Augsburg gave the Auggies an 18-9 lead and the eventual win.The Pointers'
Bill Langford
(Westosha, WI) and
Andy Borchardt
(Edgar, WI/Edgar) also recorded wins on the evening for the Pointers.UW-Stevens Point (17-8) return to the mat on March 2, 2013 at the Midwest Regionals in Elmhurst, Ill.20 Augsburg 18 - 9 UW-Stevens Point 15197: Matt Heschel (AUG) def.
Craig Brandvold
(Merrill, WI/Merrill)(UWSP) 8-6; 3-0HWT: #1 Chad Johnson (AUG) def.
Jordan Koranda
(Marshfield, WI) (UWSP) 5-3; 6-0125: Mike Fuenffinger (AUG) def.
Lance Fabry
(Ashwaubenon, WI) (UWSP) 15-0; 11-0133: Tossaporn Suparat (AUG) def.
Lucas McGann
(Merrimac, WI/Baraboo) (UWSP) 9-1; 15-0141: #6
Jordan Kust
(Clintonville, WI/Shawano) (UWSP) def. Tom Kuehn (AUG) 4-2; 15-3149:
Ben Strobel
(Neenah, WI/Neenah) (UWSP) def. Rashad Kennedy (AUG) 5-1; 15-6157:
Jamey Simmons
(Abbotsford, WI/Abbotsford) (UWSP) def. Kurt Knutsen (AUG) 7-3; 15-9165: Justin Bowland (AUG) def. #7
Jordan Schulte
(Mosinee, WI/Mosinee) (UWSP) 4-2; 18-9174:
Bill Langford
(Westosha, WI) (UWSP) def. Quinten Strand (AUG) 9-7; 18-12184:
Andy Borchardt
(Edgar, WI/Edgar) (UWSP) def. Noel Sweeney (AUG) 5-2; 18-15