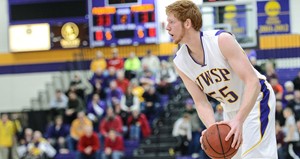 STEVENS POINT, WI (WSAU) The W-I-A-C men's basketball tournament begins tonight. Top-seeded U-W Stevens Point and Number-two Whitewater both have first-round byes.
Third-seeded Stout will play host to Number-six Superior. And Number-four La Crosse is at home against fifth-seeded Platteville.
The winners will play the two-top seeds in the semi-finals on Thursday night. The league championship contest is set for Saturday. The W-I-A-C women's tourney opens tomorrow night. Both Whitewater and Stevens Point moved back into the men's national Top-10 this week. The Warhawks jumped five places to Number-nine in the new poll from D-Three-Hoops-Dot-Com, and the Pointers also rose five spots to 10th. Both teams are 21-and-4 going into this week's W-I-A-C tournament.
Stevens Point is on a seven-game winning streak, and Whitewater has won three straight. Saint Norbert received votes in the new poll as did Stout and Carroll. Saint Thomas is still the men's Number-One.
In the D-Three women's poll, Whitewater rose four spots to 20th, and Stevens Point jumped two places to 21st. Both are 20-and-5 going into their league tournament. Carthage, Oshkosh, and Wisconsin Lutheran also received votes. DePauw is still the women's Number-One.