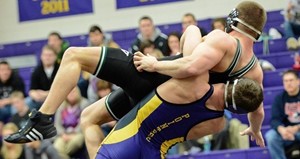 EAU CLAIRE, WI (UWSP) - The UW-Stevens Point wrestling team placed third at the Wisconsin Intercollegiate Athletic Conference Championships after winning three of its four matches Sunday.
The Pointers, ranked No. 9 nationally, entered the WIAC Championships as the #3 seed.UWSP opened the Championships with a convincing 42-3 win over UW-Eau Claire. Both Ben Strobel (Neenah, WI/Neenah) (149 pounds) and Jamey Simmons (Abbotsford, WI/Abbotsford) (157) won via pin.Jordan Schulte (Mosinee, WI/Mosinee) (165), Ryan Conat (New London, WI/New London) (174) and Dustin Wozniak (Stanley, WI/Stanley-Boyd) (197) each win with a major decision in their respective weight classes.In the second round the Pointers fell 22-12 to UW-La Crosse, which is ranked No. 5 nationally and was the #2 seed in the WIAC Championships.UWSP bounced back for a 42-10 win over UW-Oshkosh in the third round. Strobel, Simmons, Bill Langford (Westosha, WI)(174) and Andy Borchardt (Edgar, WI/Edgar) (184) each won via pin for the Pointers.http://athletics.uwsp.edu/admin/admin_main.aspx
The win over Oshkosh earned UWSP a spot in the third-place match, where the Pointers rolled past UW-Platteville 35-7.Strobel and Simmons both earned their third pins of the Championships while Borchardt won via pin for a second time on the day.Mason Bohm (133), Jordan Kust (Clintonville, WI/Shawano) (141) and Conat each won with a major decision to help UWSP lock up third place.UW-Whitewater, which is ranked No. 4 nationally and the #1 seed entering the tournament, won the WIAC Championship for the second consecutive year.
The Pointers' Shane Sweeney (Madison, WI/Edgewood) was named to the All-Sportsmanship Team, and UWSP Head CoachJohnny Johnson was named the Mertz Mortorelli Coach of the Year.
The Pointers host Augsburg on Thursday, Feb. 21 at 7 p.m. before the NCAA Tournament which starts March 2.
Round 1
UW-Stevens Point (#3) 42, UW-Eau Claire (#6) 3125 – Lance Fabry (Ashwaubenon, WI) (UWSP) over Zack Sirny (UWEC) – Decision, 3-1133 – Lucas McGann (Merrimac, WI/Baraboo) (UWSP) won by forfeit141 – Jordan Kust (Clintonville, WI/Shawano) (UWSP) over Nathaniel Behnke (UWEC) – Decision, 2-0149 – Ben Strobel (Neenah, WI/Neenah) (UWSP) over Steve Fisher (UWEC) – Pin, 2:14157 – Jamey Simmons (Abbotsford, WI/Abbotsford) (UWSP) over Brandon Stradel (UWEC) – Pin, 1:53165 – Jordan Schulte (Mosinee, WI/Mosinee) (UWSP) over Matt Koch (UWEC) – Major Decision, 10-1174 – Ryan Conat (New London, WI/New London) (UWSP) over Jacob Hoffstatter (UWEC) – Major Decision, 9-1184 – Mat Rieckhoff (UWEC) over Bill Langford (Westosha, WI)(UWSP) – Decision, 3-2197 – Dustin Wozniak (Stanley, WI/Stanley-Boyd) (UWSP) over Luke Ortscheid (UWEC) – Major Decision, 10-2285 – Jordan Koranda (Marshfield, WI) (UWSP) won by forfeit
Round 2
UW-La Crosse (#2) 22, UW-Stevens Point 12125 – Izzy Balsiger (UWL) over Lance Fabry (Ashwaubenon, WI)(UWSP) – Major Decision, 14-6133 – James Bennett (UWL) over Lucas McGann (Merrimac, WI/Baraboo) (UWSP) – Decision, 4-3141 – Adam Sheley (UWL) over Jordan Kust (Clintonville, WI/Shawano) (UWSP) – Decision, 6-1149 – Ben Strobel (Neenah, WI/Neenah) (UWSP) over Dylan Shaffer (UWL) – Decision, 4-0157 – JR Lewis (UWL) over Jamey Simmons (Abbotsford, WI/Abbotsford) (UWSP) – Decision, 5-2165 – Jordan Schulte (Mosinee, WI/Mosinee) (UWSP) over Sean Huls (UWL) – Pin, 4:59174 – Kevin O'Brien (UWL) over Ryan Conat (New London, WI/New London) (UWSP) – Decision, 3-2184 – Eric Twohey (UWL) over Andy Borchardt (Edgar, WI/Edgar)(UWSP) – Decision, 5-1197 – Dustin Wozniak (Stanley, WI/Stanley-Boyd) (UWSP) over Tony Piechowski (UWL) – Decision, 4-2 (OT)285 – Billy Mayer (UWL) over Jordan Koranda (Marshfield, WI)(UWSP) – Decision, 6-4
Round 3
UW-Stevens Point 42, UW-Oshkosh 10125 – Lance Fabry (Ashwaubenon, WI) (UWSP) won by forfeit133 – Lucas McGann (Merrimac, WI/Baraboo) (UWSP) over David Rosenau (UWO) – Decision, 2-0141 – Jordan Kust (Clintonville, WI/Shawano) (UWSP) won by forfeit149 – Ben Strobel (Neenah, WI/Neenah) (UWSP) over Mason McMullen (UWO) – Pin, 2:45157 – Jamey Simmons (Abbotsford, WI/Abbotsford) (UWSP) over Dylan Riley (UWO) – Pin, 1:01165 – Jake Moczynski (UWO) over Jordan Schulte (Mosinee, WI/Mosinee) (UWSP) – Major Decision, 12-3174 – Bill Langford (Westosha, WI) (UWSP) over Ben Frieler (UWO) – Pin, 3:57184 – Andy Borchardt (Edgar, WI/Edgar) (UWSP) over Justin Allen (UWO) – Pin, 3:36197 – Tyler Wetenkamp (UWO) won by forfeit285 – Jordan Koranda (Marshfield, WI) (UWSP) over Brandon Clapper (UWO) – Decision, 5-3
Round 4
(Third-place match)UW-Stevens Point 35, UW-Platteville 7 125 – Lance Fabry (Ashwaubenon, WI) (UWSP) over Cole Ferguson (UWP) – Decision, 5-1133 – Mason Bohm (UWP) over Ryan Osse (Wheat Ridge, CO)(UWSP) – Major Decision, 18-5141 – Jordan Kust (Clintonville, WI/Shawano) (UWSP) over Jose Collado (UWP) – Major Decision, 13-4149 – Ben Strobel (Neenah, WI/Neenah) (UWSP) over Josh Bayer (UWP) – Pin, 6:45157 – Jamey Simmons (Abbotsford, WI/Abbotsford) (UWSP) over Robbie Kerr (UWP) – Pin, 4:11165 – Peter Crocco (UWP) over Dan Irwin (Pulaski, WI) (UWSP) – Decision, 10-5174 – Ryan Conat (New London, WI/New London) (UWSP) over Nathan Schmitz (UWP) – Major Decision, 13-4184 – Andy Borchardt (Edgar, WI/Edgar) (UWSP) over Dylan DeShane (UWP) – Pin, 3:26197 – Dustin Wozniak (Stanley, WI/Stanley-Boyd) (UWSP) over Abe Graziano (UWP) – Decision, 6-1285 – Jordan Koranda (Marshfield, WI) (UWSP) over Josh Dust (UWP) – Decision, 5-3