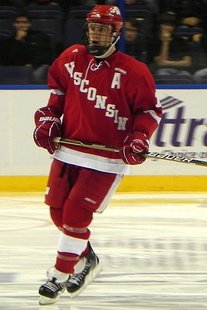 CHICAGO, ILL (WSAU) The Wisconsin men's hockey team upset second-ranked Minnesota 3-to-2 yesterday, playing outdoors at the Hockey City Classic in Chicago. The 18th-ranked Badgers scored all their goals within three-and-a-half minutes in the second period to up 3-nothing.
Sean Little scored the game at 16:22 in the period. Kevin Schulz and John Ramage also scored for Wisconsin, which improved to 10-7-7 in the W-C-H-A and 13-10-and-7 overall. The Badgers are now 3-and-0 lifetime in outdoor contests. Seth Ambroz and Zach Budish scored in the final period for Minnesota, which dropped to 12-6-and-4 in the conference and 20-6-and-4 overall.
Over 52-thousand people saw the game at Soldier Field, and Badgers' coach Mike Eaves said the atmosphere gave his team a real boost. The Badgers will host Penn State next Sunday and Monday. The Badger women's hockey team won its regular season home finale last night, 3-to-2 in overtime over Minnesota-Duluth. Brianna Decker scored the game-winner, as the Badgers secured third-place in the W-C-H-A with a league mark of 15-9-2-and-2.
Wisconsin swept the weekend series against Duluth, securing home ice in the first round of the playoffs with a two-goal victory on Saturday. The Badgers are now 19-9-and-2 overall. Minnesota-Duluth is 13-12-1-and-0 in the conference, in a battle for fourth place with Ohio State. Duluth fell to 14-13-and-3 overall.
Wisconsin will close out its regular season this weekend at Bemidji State.