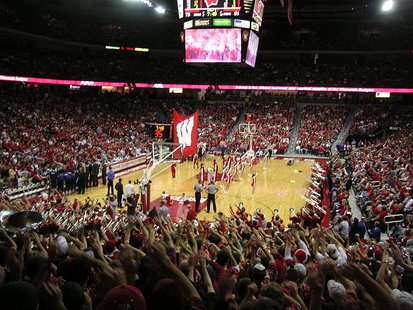 MADISON, Wis. (WSAU) - The 20th-ranked Wisconsin Badgers continued their success against top-15 teams this season with a 71-49 victory over the 13th-ranked Ohio State Buckeyes on Sunday.
Ben Brust had 15 points and 11 rebounds for the Badgers (18-8, 9-4 Big Ten), who have now defeated five top-15 teams this season (Indiana, Michigan, Illinois and Minnesota).
Jared Berggren tallied 15 points, eight boards and four blocks for Wisconsin, which had played three straight overtime games that included a loss to Minnesota on Thursday. Sam Dekker and Traevon Jackson donated 13 and 10 points, respectively.
The Badgers avenged a 58-49 loss to Ohio State on Jan. 29.
Deshaun Thomas ended with 18 points and six rebounds for the Buckeyes (18-7, 8-5), who have lost three of four. Sam Thompson added 10 points.
It didn't take long for Wisconsin to build a big lead. With the score tied at six, the Badgers went on a 21-2 run. Brust made a trio of 3-pointers during the surge that Dekker capped with a three for a 27-8 margin with 8:36 left.
Dekker added another 3-pointer with 3:46 remaining to extend Wisconsin's lead to 34-14. It was 39-22 at the break.
The Badgers shot 59.3 percent from the field in the first half, while holding Ohio State to 32.3 percent.
The Buckeyes actually got off to a good start in the second half. Mike Bruesewitz grabbed Thompson as he went up for a layup. Thompson made the shot and Bruesewitz was called for an intentional foul. After missing the ensuing free throw, Thompson made a jumper to cut the gap to 39-26.
Jackson responded with four straight points of his own to swing the momentum back in Wisconsin's favor. The Badgers cruised to victory from there.
Ohio State leads the all-time series by an 84-67 margin ... The Buckeyes were held to their lowest point total in a half this season with 22 points in the first half of play ... Wisconsin shot 52.7 percent from the field and went 7- of-19 from beyond the arc, while Ohio State shot 37.5 percent and went 3-of-12 from three-point range.