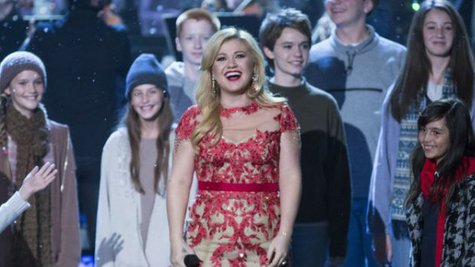 In the video for her new holiday hit "Underneath the Tree," Kelly Clarkson is giving fans a preview of her upcoming NBC Special, Kelly Clarkson's Cautionary Christmas Music Tale . The video consists of her performance of the song from the December 11 special, as well as some behind-the-scenes footage.
In the video, Kelly -- who was pregnant when she taped the special but hadn't announced it yet -- is seen belting out the number in a long, festive red and gold gown as snowflakes fall. But you'll also see her getting her hair and makeup touched up backstage, rehearsing in a bathrobe and laughing with guests Blake Shelton and former Queer Eye "lifestyle guru" Jai Rodriguez . At one point, we see Blake dressed as a very tall Christmas elf. Kelly is also seen goofing around behind another special guest, country star Trisha Yearwood .
"Underneath the Tree" has just topped Billboard's Adult Contemporary chart, becoming only the 15th Christmas song in the history of the chart to do so.
Copyright 2013 ABC News Radio