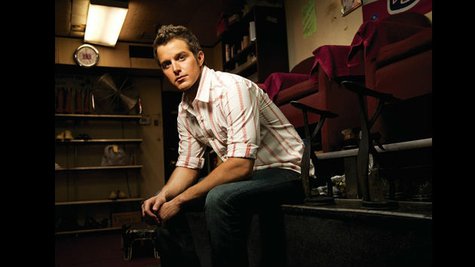 Easton Corbin has a pretty girl riding shotgun with him in his latest hit, "All Over the Road," but Easton likes to head out solo on his motorcycle every time he gets a chance. One of his favorite cruising spots is the Natchez Trace Parkway just outside Nashville.
Easton tells ABC News Radio, "It's beautiful out there. There's not any big trucks or anything. So, it's just me and the cars. Well, you gotta watch out for the deer out there."
While Easton admits he probably goes faster than he should out there, he hasn't had a close call with any cars or deer yet.
"I don't want any close call on anything, especially a motorcycle," Easton explains. "That's bad news."
One of the extras on Easton's new bike is a stereo system, but he can't listen to it while doing 50 or 60 miles per hour.
Says Easton, "It starts getting a little noisy. You know, where you're hearing wind and… you gotta turn the radio up so loud, it's like a 'whoosh.'"
When Easton is going a little slower, he likes to jam out to his favorite country classics.
"I had on Restless Heart the other day," he says, "listening to that old Restless Heart stuff, which is great, and any of that old type stuff like that."
Easton shares that love of '80s country music with his current tour mate Blake Shelton . They continue on Blake's Ten Times Crazier tour August 29 in Atlanta.
Copyright 2013 ABC News Radio