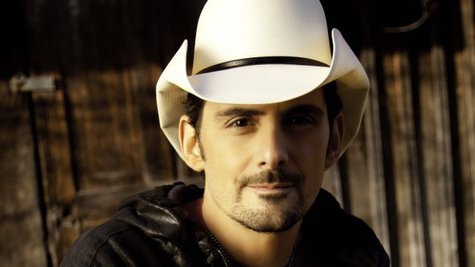 Brad Paisley was very concerned about his friend and tour mate Chris Young 's health last week after Chris was hospitalized in Denver with a serious leg infection. That concern didn't stop Brad from making a joke on Twitter about the real reason behind Chris's hospitalization.
Once Chris was out of the woods, Brad tweeted , "Hoping @ChrisYoungMusic feels better and gets back on the road soon. Facelifts can really be painful the first few days after, I hear."
Prior to a party in Nashville Tuesday to celebrate his #1 hit, "Beat This Summer," Brad expressed his excitement at seeing the results of Chris's cosmetic surgery.
"He just felt like he wanted a little lift in his jaw line," Brad says with a laugh. "I haven't seen it yet, but he'll be out this weekend, I think."
In all seriousness, Brad actually had a young family member die from an infection similar to Chris's, so he's glad Chris had people around him to get him to the hospital quickly. Otherwise, it might have been easy for Chris to just shake it off and soldier on to the next show.
Brad says, "I mean, guys our age, we always think we'll just sleep it off, I think."
Brad looks forward to welcoming Chris back to the Beat This Summer tour soon since they've really hit it off in the past few months.
"He might be the nicest person I've ever had on the road," Brad says of Chris. "He really is a great, great guy. I could not think more of him."
Chris returns to the Beat This Summer tour Thursday night in Mountain View, CA.
Copyright 2013 ABC News Radio