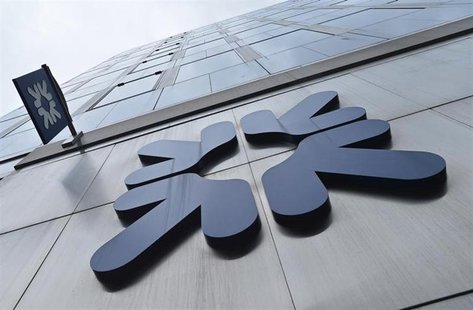 By Matt Scuffham and Steve Slater
LONDON (Reuters) - New Zealander Ross McEwan was confirmed as boss of Royal Bank of Scotland on Friday and immediately tasked with recovering British taxpayers' cash from one of the biggest casualties of the credit crunch.
McEwan, 56, whose promotion comes less than a year after he arrived to run RBS's retail arm, will take over in October.
He had been widely tipped to get the job after predecessor Stephen Hester was ousted by the government in June and will have the job of completing RBS's restructuring, ensuring its shares rise above the government's break-even price so the stake can be sold.
Finance Minister George Osborne welcomed the appointment and said McEwan had impressed with his vision of RBS "as a strong, UK-centered corporate bank", focused on supporting the British economy.
"I think he'll provide the leadership RBS needs as the bank puts the mistakes of the past behind it, and the government seeks to get the best value for the taxpayer from the money the last government put into the bank," Osborne said.
McEwan was appointed as RBS said it made a pretax profit of 1.4 billion pounds ($2.1 billion) in the six months to the end of June, compared with a loss of 1.7 billion in the first half of 2012.
The bank made its first two consecutive quarters of profit since 2008, when it needed a 46 billion pounds bailout from the taxpayer which left the government with an 81 percent stake. RBS said it expects its restructuring to be largely done by the end of 2014.
McEwan joined RBS as CEO for UK retail in September from Commonwealth Bank of Australia and is considered a safe, politically acceptable choice who will increase the bank's focus on retail and commercial banking.
UP AND RUNNING
He is expected to continue slimming down its investment bank, as wanted by many politicians and regulators.
"It's really important for the UK economy to have this bank back up and running," McEwan said. "It's a major responsibility for me to guide this organization to focus very strongly back on our customers and I'm looking forward to that opportunity."
He will be paid an annual salary of 1 million pounds, less than the 1.2 million Hester received. McEwan said he did not want to be considered for an annual bonus for the remainder of 2013 or for 2014.
"We take the swift replacement as a signal of the government's urgency to take RBS closer to the end game when the Treasury can exit its holding profitably," said Chirantan Barua, analyst at brokerage Bernstein.
RBS shares are still well below the price the government paid for them and which are valued at 407 pence on its books. A sale of its shares are seen as at least a year away, unlike Lloyds Banking Group Plc , where the government is set to start selling its shares soon.
RBS said its capital strength continues to improve and expects to reach a core capital ratio under full Basel rules of more than 9 percent by the end of this year.
It took an extra 185 million pound provision to compensate customers for the mis-selling of payment protection insurance, taking its total bill to 2.4 billion pounds.
RBS shares dipped 1 percent to 330 pence by 0705 GMT (3.05 a.m. ET), underperforming a 0.6 percent rise by the European banking index <.SX7P>. The shares rallied 5 percent on Thursday after reports McEwan would be appointed and strong results from Lloyds.
(Editing by David Holmes)