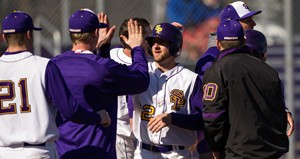 STEVENS POINT, WI. (UWSP) – The UW-Stevens Point baseball team split a doubleheader with UW-Stout Wednesday afternoon, winning the first game 12-2 in seven innings, but then dropping the second game 14-4 in seven innings.
UWSP (18-7, 8-4 WIAC) grabbed a 2-0 lead in the first inning when Dan Douglas (East Troy, WI/East Troy) led off by reaching on an error.
Jimmy Coady (La Crosse, WI/Aquinas) followed with a single, and Sean Gerber (Stoughton, WI/Stoughton) hit a single to right field that scored Douglas and moved Coady to third base.
Bryton Guckenberg (Trego, MT/Lincoln County) beat out an infield single to the shortstop, allowing Coady to score to give the Pointers the 2-0 advantage.UWSP took a 4-1 lead into the fifth inning, where it erupted for seven runs.
Three consecutive Pointers stepped to the plate with the bases loaded in the inning. Both Casey Barnes (Mequon, WI/Homestead) and Bobby Gregorich (Plover, WI/SPASH) drove in a run with respective RBI singles, and Riley Spetz (Sevastopol, WI/Sevastopol) knocked in two runs with a single to left field.Douglas recorded an RBI in the frame when he grounded out to second base, scoring Gregorich.
Ryan Schilter (West Bend, WI/West) provided the punctuation mark in the fifth inning when he belted a two-run home run over the left field wall to push the UWSP lead to 11-1.
The Blue Devils (8-19, 2-10 WIAC) added a run in the seventh inning, but Spetz led off the bottom of the inning with a double and moved to third on a sacrifice bunt from Clint Rose (Watertown, WI/Watertown).
Douglas followed by lifting a sacrifice fly into left field, easily scoring Spetz to end the game.UWSP starting pitcher Jacob Herbst (Park Falls, WI/Park Falls)earned the win by allowing just one run through six innings and striking out six.
The Blue Devils scored six runs in both the third and seventh innings and snapped the Pointers' five-game winning streak in the process.
Stout claimed a 2-0 lead in the top of the first inning, but Gerber's two-run home run to straightaway centerfield in the bottom of the first knotted the score.
Gerber has now hit five home runs in the last six games and has eight on the season.
Stout reclaimed the lead with six runs in the third inning, including a three-run home run from Matt Guida.Trailing 8-3 in the fifth inning, Spetz hit a solo home run, his second of the season. That was the last run the Pointers could muster for the rest of the game.
UWSP returns to action Thursday, April 25 when it hosts Ripon College for a doubleheader that starts at 1 p.m.