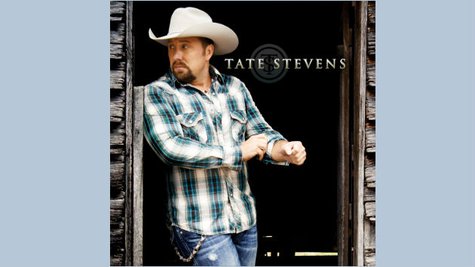 X Factor season two winner Tate Stevens arrived to Nashville in early January to start work on his debut country album, and the self-titled project is now in stores featuring his debut single, "Power of a Love Song." Having his own CD on store shelves across the country is a long-time dream now come true for Tate.
He tells ABC News Radio, "I'm so excited to see it. I'll buy all of 'em that they have in that store. Whatever store it is, they're gonna be out of 'em because I'm gonna buy every one of them. I'll just hand 'em out and give 'em out to people."
Tate co-wrote three tracks on the album and found the rest of the material in the song catalogs of Music Row's top writers. The result is an album Tate hopes fans want to play from start-to-finish every time.
" You listen to a Merle Haggard album, you listen to a Garth Brooks album, you listen to a Bob Seger album, you listen to these great albums -- you start at one and you end whenever it's done. You don't switch through," Tate explains, adding, " I wanted an album that they put it in, and they let it go until it's over. And they're like, 'Yes!'"
Tate's album is designed to give the listener a taste of the different sides of his personality as well.
He says, "I'm goofy and love having fun and everything, so there's some of that on there. But there's also some serious songs, you know, to show a more sensitive or serious side of me."
Look for Tate to perform "Power of a Love Song" on ABC's Good Morning America Friday before jetting down to Atlanta that night for a show with Alan Jackson .
Copyright 2013 ABC News Radio