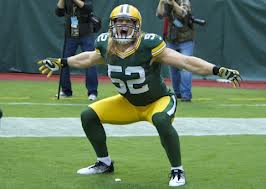 GREEN BAY, Wi (WRN) - The Green Bay Packers announced Wednesday afternoon that they reached an agreement on a contract extension with linebacker Clay Matthews. According to various internet reports, the deal is 5-years long and worth around $65 million with $31 million in guarantees.
Matthews tweeted a picture of himself signing the extension in Green Bay early Wednesday afternoon.
Matthews has recorded 42.5 sacks in his 4-seasons with the Packers which ranks 5th in team history and 5th in the league over that time span. Matthews is also the only Packer player in history to be named to the Pro Bowl in each of his first four seasons.
In a press release from the team, GM and Director of Football Operations Ted Thompson was quoted with the following:
"Clay has been a productive member of our team and we are pleased to be able to come to an agreement that will extend his Packers career."
Head Coach Mike McCarthy added, "His accomplishments and the example he sets on and off the field will be vital to our continued success. We look forward to the rest of his Packers career."