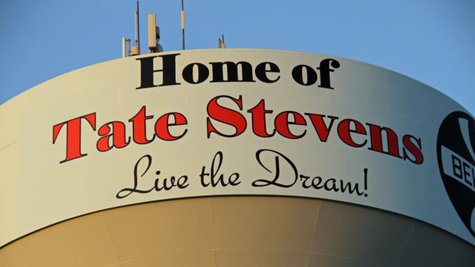 X Factor winner Tate Stevens has always felt a lot of support from the people in his hometown of Belton, MO, and now the town is sharing their love for Tate by putting his name on the local water tower. The tower is located near Tate's house, and the message "Home of Tate Stevens, Live the Dream" is now painted at the top of it. Residents of Belton raised 100 percent of the funds to paint the message.
"It's moments like this that really make me smile," Tate says. "The support I've felt from the community is incredible, and I hope I can continue to make them proud. I'm so incredibly humbled by this honor."
Tate will take part in a formal dedication ceremony commemorating the water tower painting on April 22. Look for Tate's self-titled debut album to land in stores April 23 featuring his single, "Power of a Love Song."
Copyright 2013 ABC News Radio