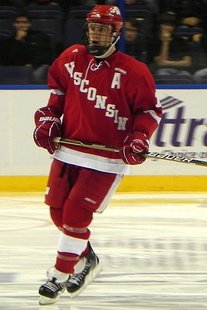 OTTOWA, ONT (WSAU) The United States and Canada will play each other tonight in the title game of the World Women's Hockey Championships in Ottawa. And it's guaranteed that at least one Wisconsin player will win a crown, since the Badgers have stars on both squads.
Last night, Team U-S-A scored all of its goals in the third period to beat Finland in the semi-finals, 3-to-nothing. Ex-Badgers Hilary Knight and Brianna Decker scored for the Americans, and Madison area native Amanda Kessel had an assist. Former Wisconsin goal-tender Jessie Vetter had 11 saves.
Ex-Badger Meghan Duggan will also suit up for tonight's title game, along with former Wisconsin star Meghan Mikkelson for her native Canada. The Americans are in the title game of the world tournament for the 15th straight year.
Knight – who was named last night's U-S player-of-the-game – is in her sixth world tournament, along with Vetter.