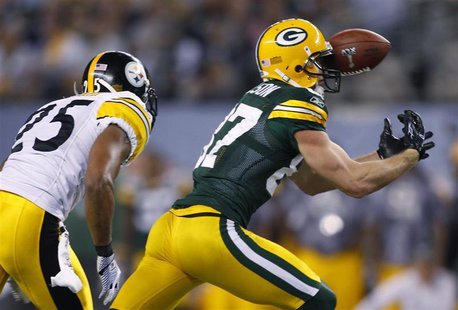 GREEN BAY< WI (WSAU) The Green Bay Packers might be without two of their key receivers when they host Jacksonville on Sunday. Greg Jennings said yesterday that he'll have surgery to fix the groin injury that he initially suffered on September ninth. And in a surprise development, Jordy Nelson's status for Sunday's contest is in doubt, after he pulled a hamstring at practice on Wednesday.
He did not practice yesterday, and coach Mike McCarthy says Nelson won't practice today, either. His legs will be tested either tomorrow or Sunday morning. McCarthy says it's the first time Nelson has dealt with a hamstring issue. He's the Packers' leading receiver with 40 catches for 532 yards and five touchdowns. If Nelson can't go, James Jones and Randall Cobb will be the starting wide-outs.
As for Jennings, he said he opted for surgery so his injury will be healed once-and-for-all. He thought he was doing better until he struggled while walking off the field at Saint Louis last Sunday. Jennings hopes to play later in the season, but he's not sure when. Nose tackle B-J Raji was back at practice yesterday, after missing two games with an ankle injury. McCarthy said Raji looked good. Running back James Starks missed practice due to illness. He's expected to be okay for Sunday, when the Packers hope to improve to 5-and-3 against the 1-and-5 Jaguars.