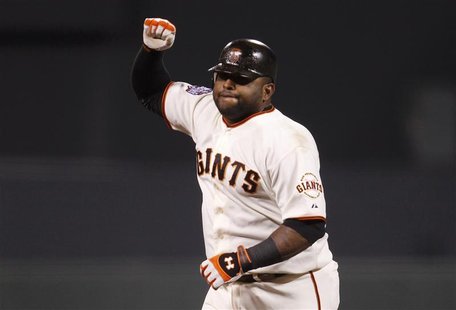 By Larry Fine
SAN FRANCISCO (Reuters) - Pablo Sandoval had just three at-bats when San Francisco won the World Series two years ago, and Barry Zito was left off the roster altogether, but those forgotten Giants stood tall in the 2012 Fall Classic opener against Detroit on Wednesday.
Sandoval bashed three home runs to put his name alongside Babe Ruth, Reggie Jackson and Albert Pujols as the only players to accomplish the feat in a World Series game as the Giants beat the Tigers 8-3 at AT&T Park.
Zito outpitched Detroit ace Justin Verlander, the 2011 American League Cy Young Award winner, to earn the victory in the opener of the 108th World Series, and came up with an RBI-single off the Tigers' right-hander to boot.
"Man, I still can't believe it," chunky third baseman Sandoval said about his power display. "When you're a little kid, you dream of being in the World Series.
"You have to keep focused, keep focused and playing your game."
Sandoval drove an 0-2 fastball over the wall in center, and sliced an opposite field home run over the fence in left off Verlander, who was gone from the game after four innings in his shortest outing in a year.
In the fifth inning, 26-year-old Venezuelan Sandoval went deep again to center off a reliever and added a line drive single to center for good measure in the seventh.
Zito was looked upon as a free agent failure after going 43-61 in the first five years of his $126 million deal before regaining his form this season to go 15-8 and become a factor in the postseason.
"I battled in September to make the postseason roster," said the 34-year-old, who won his last seven decisions to close this season.
"The last thing I would have expected at that point was to be starting Game One. Just the opportunity was just magical.
"To be able to go up against Verlander and give our team a chance to go up 1‑0, and the fact that we won, it's just kind of surreal."
'UPS AND DOWNS'
Zito pitched into the sixth inning, giving up just one run on six hits and left the mound to a standing ovation from the roaring fans.
"We got ups and downs in our career," said Sandoval, who spent most of his time tethered to the bench in the 2010 postseason as he battled weight issues. "It's not every year is going to be up.
"At that point you have to keep your head up and keep focusing and keep working hard.
"So I see my team mate Barry, and I'm very happy for him. He started the first game of the World Series. We were sitting down on the bench in 2010. So I'm happy for him to see the work he put in there, all the pieces together to win his first game."
Zito said Sandoval gave all the Giants thrills with his home run fireworks.
"When he hit his third, man, we were just going nuts in there," the pitcher said about the scene in the dugout.
"We were going nuts. We didn't know at that point if it even had ever been done, and we're just like, 'Oh, my gosh'".
Sandoval, who had only 12 home runs in the regular season but started to heat up with three homers in the playoffs, said he broke his bat during his third time up at the plate.
"I use that bat all my postseason," he said. "(But) I don't get too much superstition. There's more bats in there to swing. It's not the bat. It's you."
(Editing by Peter Rutherford)