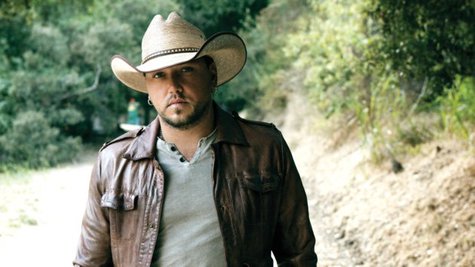 Jason Aldean recently stopped by the MLB Fan Cave in New York City to answer some questions from his fans and to promote his new album, Night Train , as part of the venue's ongoing concert series. Since it was an MLB event, Jason gave a shout-out to his beloved Atlanta Braves, but he mainly focused on his music.
When asked what his favorite Jason Aldean song is, the singer replied that he couldn't pick one, because they came at different times in his career, and mean different things to him.
When another fan asked Jason who he'd like to tour with, dead or alive, he chose Elvis Presley as the guy he'd like to perform with who is no longer with us. Says Jason, "He actually died the year I was born, so I never got to see a show of his or anything like that except for things on TV. I just think the guy was really interesting."
Jason added that when it comes to living artists, he'd most like to tour with George Strait .
For more of Jason's interview and to catch his performance of "Take a Little Ride," go to MLBFanCave.MLB.com .
Copyright 2012 ABC News Radio