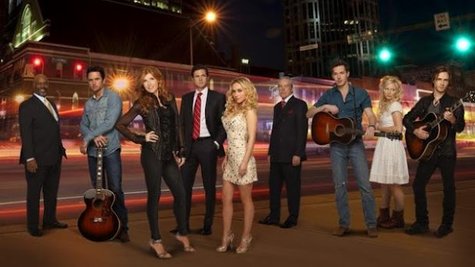 The real-life country stars of Nashville were watching the series premiere of ABC's Nashville , and so far their reviews seem to be pretty positive. Darius Rucker thinks the show is great for country music, though he feels the beginning of the premiere episode was a little slow. He's also hoping to get a song on Nashville at some point. As for all the backstabbing and dramatic plot twists, Darius says, "It's TV. You gotta take everything with a grain of salt."
Lady Antebellum 's Hillary Scott is a fan of the tension between the show's aging superstar Rayna James and the underhanded newcomer Juliette Barnes.
"There's a good little cat fight going on," Hillary says. "I liked it. It made for good TV, that's for sure."
Lady A 's Charles Kelley got a kick out of seeing Nashville landmarks like the Bluebird Café and the Grand Ole Opry on Nashville , but he warns fans he and his fellow country stars don't really hang out at the bars on Lower Broadway like the stars on the show.
Speaking of one exchange between the Rayna and her band leader Deacon on the show, Charles says, "They're like, 'Yeah, let's go down to Tootsie's and get a drink.' As if everybody just goes and hangs out at Tootsie's."
Sugarland 's Jennifer Nettles can't give a review of Nashville because she hasn't actually watched it yet.
She says, "I haven't, and I'm afraid to, to be honest because it's the same reason that I didn't watch the movie Country Strong , because I'm afraid to look at it and go, 'That's not true, that's not real, that's exaggerated.'"
While Jennifer knows the drama on the TV show is over-the-top, she doesn't think it really reflects her own day-to-day life.
"I'm sure some of our lives within country music might represent a portion of that," Jennifer explains, "but some of us are probably pretty boring."
Though Jennifer feels protective of country music when it comes to shows like Nashville , she says, "I love from an entertainment factor that country music is so much in the consciousness of pop culture right now. I love the support."
The second episode of Nashville airs Wednesday night at 10 ET on ABC.
Copyright 2012 ABC News Radio