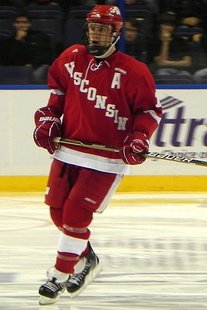 MADISON, WI (WSAU) Wisconsin men's hockey coach Mike Eaves says the U-W will appeal an N-C-A-A decision from last week, in which freshman forward Nic Kerdiles was ruled ineligible for the season. School officials would not comment on the nature of the violation, but deputy athletic director Sean Frazier calls the ruling "unprecedented."
According to the Wisconsin State Journal, a photo turned up from agent Ian Pulver's Twitter account showing Kerdiles and two other clients holding up a specific energy drink. The paper said the photo could have meant that Kerdiles was being marketed by the agent – or promoting the energy drink.
If the N-C-A-A ruling stands, the State Journal says it's likely that Kerdiles might leave school and continue his development elsewhere – possibility with a Canadian junior league team. Kerdiles is a second-round draft pick of the Anaheim Ducks.
The 15th-ranked Badgers, meanwhile, will open their season on Friday night in Green Bay against Northern Michigan.