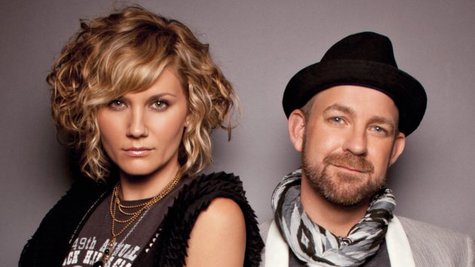 Sugarland recently finished up their In Your Hands tour featuring a very pregnant Jennifer Nettles on vocals. She's due to have her first child next month, and her duo partner, Kristian Bush , gives Jennifer high marks for carrying on despite her advancing pregnancy.
They only had to perform sitting down a few times while appearing in cities with high altitude. Kristian tells ABC News Radio, "I think there was one other time where she was just like, 'Oh my back. Oh Bessie!'"
The duo also had to sit down for meet-and-greet sessions with fans, which was weird for Kristian.
"You felt like a king or something 'cause you're shaking [hands] up," he says.
Though Jennifer's pregnancy didn't affect her voice during the shows, it did make her chest quite a bit bigger. Being a guy, Kristian definitely noticed.
He says with a laugh, "She always does that little shimmy move to me at the end of songs. At some point, you know, I always look her in the eyes. At some point I look down because it's like this giant like, flopping back and forth. I was like, "Oh my gosh!" She looked at me like, 'Gotcha! Look what I got now.'"
Kristian admits that freaked him out a little bit saying, "I was like, 'Oh my gosh! You can't do that to me. I'm your brother!'"
Since the tour ended, Kristian has been busy writing with a wide range of people. He'll hook back up with Jennifer for their induction into the Georgia Music Hall of Fame on October 14 in Atlanta.
Copyright 2012 ABC News Radio