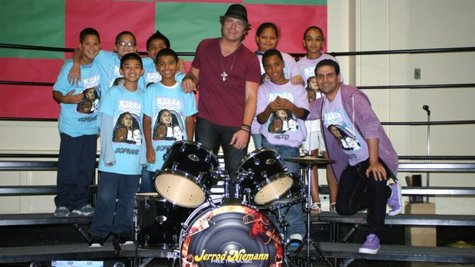 Jerrod Niemann visited the fifth grade chorus students at PS22 in Staten Island, NY earlier this week. In addition to performing his latest single, "Shinin' on Me," with the students, Jerrod also presented them with a new drum set and electric piano. In return, the students gave Jerrod one of the chorus's t-shirts, and their director said they hope Jerrod wears the shirt when he wins a Grammy for his new album, Free the Music , in stores this week.
The visit to PS22 is just the latest way Jerrod is working to champion music education programs. He credits sports and music for keeping him out of trouble.
Jerrod tells ABC News Radio, "Growing up, kids need things to do. They need things to get their mind out of the gutter and stay away from the bad crowd."
Jerrod thinks the disappearance of music education programs robs kids of the opportunity to learn how healing music can be as well. That's why he's looking for other opportunities around Nashville, including a possible deal with Tennessee Titans players, to get instruments into young people's hands.
Says Jerrod, "I just think it's important for music to be in the lives our young folks of America."
Copyright 2012 ABC News Radio