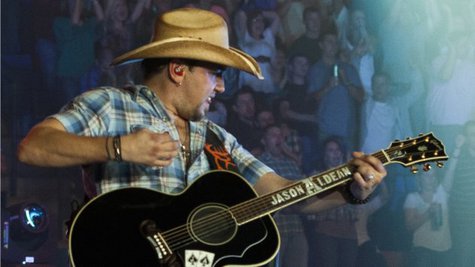 Jason Aldean was photographed getting close to former American Idol contestant Brittany Kerr Wednesday night at the Los Angeles club The Den, and after the incriminating photographs were posted on TMZ.com , he's coming clean.
On his Facebook page , Aldean told fans Sunday, "The truth is that I screwed up. I had too much to drink, let the party get out of hand and acted inappropriately at a bar." The recording artist -- who has been married to his wife Jessica since 2001 -- explained further, "I left alone, caught the bus to our next show and that's the end of the story. I ultimately ended up embarrassing my family and myself. I'm not perfect, and I'm sorry for disappointing you guys. I really appreciate being able to work through this privately with my family and for all your continued support."
Aldean and his wife have two daughters together.
One of the grainy shots seemed to show Jason and Brittany kissing, and in the clearer photos, the two have their arms around each other. Eyewitnesses corroborate Jason's side of the story that he eventually left the Sunset Strip club solo.
Copyright 2012 ABC News Radio