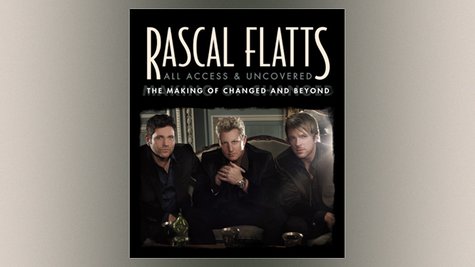 Rascal Flatts is giving fans an unprecedented look into their creative process and private lives with the new DVD, Rascal Flatts -- All Access & Uncovered/The Making of Changed and Beyond, in stores Monday. The feature includes in-depth interviews with all three of the band's members.
Flatts bass player Jay DeMarcus tells ABC News Radio, "That's what I'm excited for them to see is the different aspects of our lives with our family and personally what we went through to get to where we are now with Rascal Flatts."
The DVD also includes live performances shot during Rascal Flatts appearance at the intimate Franklin Theater just south of Nashville. That set list includes tracks from their latest album, Changed , such as "Banjo," "Come Wake Me Up" and the title cut. Rascal Flatts classics like "Bless the Broken Road," "What Hurts the Most" and "Life Is a Highway" round out the DVD along with tons of other bonus content.
Rascal Flatts guitarist Joe Don Rooney explains, "We attached some behind the scenes footage, some inside behind the scenes footage that you wouldn't have seen in the movie and also some of our fans' favorite videos from the past few years are on the DVD as well."
Rascal Flatts has several TV appearances lined up to promote the new DVD. Look for them on E!'s Chelsea Lately Monday night. They also perform on NBC's The Voice Tuesday night.
Copyright 2012 ABC News Radio