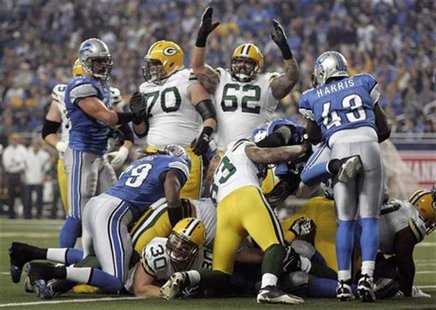 DETROIT, Mich (TSN-WSAU) - The Green Bay Packers have notoriously been a tough team to beat coming off of their bye for nearly two decades. A meeting with the underachieving Detroit Lions may just be icing on the cake.
The Packers visit the Lions this Sunday looking to record a fifth straight victory and extend their winning streak over NFC North opponents to nine games in a row.
After a slow start to the season, the Packers have not lost since Oct. 7 at the Indianapolis Colts. They followed up that setback with road wins over the Houston Texans and St. Louis Rams before home victories against the Jacksonville Jaguars and Arizona Cardinals.
Quarterback Aaron Rodgers is tied for the NFL lead with 25 touchdown passes, connecting on four scoring strikes in Green Bay's 31-17 victory over the Cardinals on Nov. 4. He has been picked off just five times this season.
"I'm trying to be the best player I can be," noted Rodgers. "You've got to be self-motivated in this league to be successful. I've tried to learn from the people I've come in contact with and just continue to try to be a better player."
The extra rest usually does Green Bay some good as it has won 12 of its last 16 games after the week off. That includes a victory in each of the past three seasons, with the Packers outscoring their opponents 102-41. In that sample is a 26-0 victory over Detroit in 2009.
The bye came at a good time for Green Bay, which continues to play without safety Charles Woodson (collarbone), wide receiver Greg Jennings (abdominal) and running back Cedric Benson (foot), while linebacker Clay Matthews, wide receiver Jordy Nelson and right tackle Bryan Bulaga all suffered injuries against the Cardinals.
"You don't gain anything spending a whole lot of time talking about it," Packers head coach Mike McCarthy said of playing through the injuries. "Our team understands that. We've unfortunately had to deal with it in the past so we do have experience in these situations. You know, we're just trying to get our guys ready to do what we need to do to win this football game."
Nelson is likely to return this weekend from an ankle issue, but Matthews will miss some time due to a hamstring ailment while a hip injury landed Bulaga on injured reserve.
Still, Green Bay should be loaded with confidence heading into its first divisional matchup since a Week 2 win over the Chicago Bears extended their winning streak against divisional opponents to a club record-tying eight in a row.
The Packers haven't lost to a NFC North team since Dec. 12, 2010 at Detroit.
That defeat is the lone for Green Bay against the Lions in 12 meetings since McCarthy took over as head coach prior to the 2006 season. The Packers have won 20 of the last 23 encounters overall and have outscored the Lions 180-109 in six games at Detroit's Ford Field under McCarthy, winning five of those.
Green Bay logged a 27-15 win at Detroit in a Thanksgiving Day matchup last season, the 11th victory of their franchise-record 13-game win streak to start that campaign. Rodgers threw for 307 yards and two touchdowns, including a 65- yard scoring strike to receiver James Jones.
Detroit quarterback Matthew Stafford was picked off three times in the loss, though he posted 520 passing yards and five touchdowns in a 45-41 defeat in Green Bay to conclude the regular season. He was, however, outdueled by then- Packers' backup quarterback Matt Flynn and his six TD passes.
The Lions are looking to turn things around after having a two-game win streak halted last Sunday with a 34-24 defeat at the Minnesota Vikings. Detroit fell a game under .500 and is now 0-3 against the division in 2012 despite getting a career-high 12 receptions for 207 yards with a touchdown catch by wideout Calvin Johnson.
At 4-5, the Lions are last in the NFC North and now face an uphill battle to make a second straight playoff appearance.
"I wouldn't call it either one of those - desperate or dire," Lions head coach Jim Schwartz said of the team's postseason hopes. "I think our word is urgent. We had six of our first nine on the road. We now have a stretch of three in a row at home. We have to do something with that. There's urgency to that. Our margins are a lot thinner. We don't have a whole lot of wiggle room for mistakes down the stretch. We have to play our best."
Detroit has another pair of tough home games on this residency coming up against the Texans on Thanksgiving followed by a visit from the Indianapolis Colts.