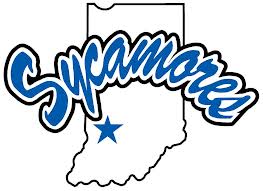 The Illinois State Redbirds won their seventh straight road game at memorial stadium on Saturday.
The first score wasn't until the 3rd quarter in a tough battle for two solid defensive teams.
Illinois State's first score came in the third quarter with a 36-yard field goal from Nick Aussieker. Tyrone Walker helped out the Redbirds next with a 4-yard catch for a touchdown making the score 10-0 Illinois State at the end of the third.
Late in the fourth quarter Darrelynn Dunn gave the Redbirds their final score on a 3-yard run with 2:52 remaining.
Indiana State scored all of its points in the final 31 seconds. Michael Mardis hauled in a pass from Perish for a 6-yard touchdown. Then, with 6 seconds remaining Tanner Fritschle split the uprights from 33 yards out to make it a one score ball game. The Sycamores just didn't have enough time as they fell to the Redbirds 17-0.
Shakir Bell carried the ball 22 times for 115 yards and Mike Perish threw 20 of 40 passing for 182 yards and a touchdown.
The Sycamores (7-3, 5-2 MVC) have next week off.
Indiana State will head to Youngstown, Ohio November 17th to take on the Penguins.
Kickoff @ 2:00 pm ET
.
Shakir Bell racked up 115 yards on the ground in 22 carries and Mike Perish was 20-40 passing for 182 yards and a TD.
The Sycamores