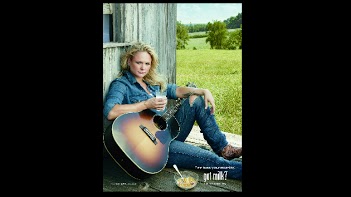 Miranda Lambert is wearing a milk moustache in the new Got Milk? ad she unveiled Wednesday at the Country Music Association headquarters in Nashville. She's seen some of her favorite stars take part in the ads throughout the years , and Miranda tells ABC News Radio, "It's like, cool to see your face as one of those."
It's safe to say Miranda is one of the only one of those celebrities that actually grew up on a goat farm though. She says with a laugh, "We milked goats, which I don't like goat milk anymore because of it. But it's funny because doing the milk campaign, that's the first thing I thought of."
Miranda is also involved in the Got Milk? campaign's Breakfast Project, encouraging people to enjoy milk as part of their daily breakfast at home. Miranda will take that advice to heart getting ready for Thursday night's CMA Awards.
"I do have to eat a good breakfast that involves milk for protein and energy," she explains.
For a big awards show like the CMAs, Miranda's day starts at 11 a.m. and stretches into the night with rehearsals, wardrobe styling and makeup. She says, "By the time the show even starts you already feel like you've put in a full day, you know."
All that effort is worth it for Miranda, who still admits to getting butterflies before the CMA Awards start.
"I don't think I'll ever not get nervous even if I'm not nominated or performing," she says. "It's just an exciting event, you know?"
Miranda is up for four CMA Awards including Album of the Year for Four the Record . The 46th Annual CMA Awards broadcast live on ABC Thursday night at 8 ET.
Copyright 2012 ABC News Radio