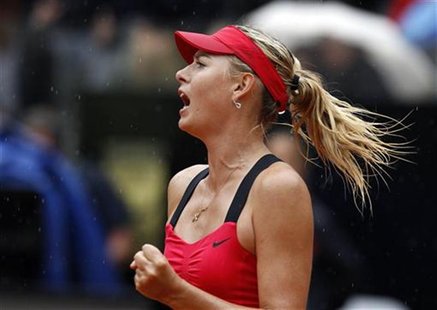 PARIS (Reuters) - Two years after reaching a nadir following a shoulder injury, a cheerful Maria Sharapova is just a few games away from topping women's tennis again as she looks to secure her maiden French Open title.
The 25-year-old Russian will reclaim top spot in the WTA rankings if she wins in Paris and current world number one Victoria Azarenka does not reach the final, or if she reaches the final and the Belarussian fails to make it to the last eight.
"I would love to have that again, because after I came back from my injury ‑ I don't remember what my ranking was ‑ but I thought to myself, well, when I was young I had the goal of being number one," Sharapova, who will start her campaign against Romania's Alexandra Cadantu, told a news conference after the French Open draw on Friday.
Sharapova, who occupied the world number one spot for the last time in 2007, dropped to 126th in May 2009 seven months after undergoing shoulder surgery to repair a torn muscle.
"I'm kind of in a position right now where I don't have a ranking. I'm just starting from scratch. If I did it once, maybe, you know, I can try to do it again," she continued.
"So to be in a position where I'm close and to just be in this position, I'm really happy.
"I'm happy with the way that I fought through the tough moments in the days when things weren't going exactly the way I had imagined them to go, and it's obviously always nice to be in that position to try to get that," she said.
Sharapova, who once described herself as a "cow on ice" on clay, has improved on the slowest surface, reaching the French Open semi-finals last year where she lost to eventual champion Li Na of China.
She beat Li in the Rome final last Sunday and Azarenka in the Stuttgart final last month, a sign that she will be a force to reckon with in Paris, where she hopes to complete her career grand slam.
"It's always nice to come to Roland Garros knowing that I have been playing extremely well on it and having a few titles in the last few weeks," she said.
"I'm much more comfortable on this surface. Even though I don't play too many tournaments on it throughout the year, I feel like with every year that has come and the claycourt season that arrives, I feel physically stronger."
Sharapova is ready to push herself all the way in every match without fearing she will pay for her efforts in the following encounter.
"I think that's definitely helped me in the recovery process. Before I felt like in matches I was saving myself a little bit because I didn't always believe that physically I could play seven matches in difficult, heavy conditions in Europe when it's raining," she explained.
"My body just wouldn't recover that well but I've certainly improved that."
(Reporting by Julien Pretot; Editing by Clare Fallon)