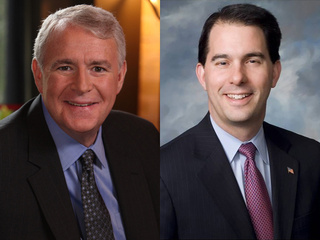 MILWAUKEE (WTAQ) - Governor Scott Walker predicted Wednesday morning that Democrat Tom Barrett would, "pick an issue a day to attack him" between now and the June 5th recall election.
After speaking to a manufacturing conference in Milwaukee, the Republican Walker told reporters his administration has been attacked by critics for 15 months and, "I expect that will intensify even more in the future."
Walker had almost $5 million in his campaign fund in late April, after raising $25 million in all to defend the recall effort. But the governor said, "I wouldn't have to raise or spend a penny if this recall had not been fueled by out of state special interests – They fueled the protests, the recalls, the attacks."
After winning Tuesday's Democratic primary, Barrett came right out of the chute Wednesday morning and accused Walker of launching misleading attacks on Wisconsin's job picture.
Walker retorted that Barrett wanted to repeal a 7.5 percent tax credit he approved last year to manufacturers that create jobs. The governor said a repeal would be, "devastating." And he said it would be a tax increase on Wisconsin factories.
Barrett said he wants 4 debates with Walker over the next 27 days. Walker said he would follow the same pattern that the Democrats in the recall contest used for their debates.
They had one major statewide televised debate the Friday night before the primary – plus several forums put on by Democrats and labor unions.