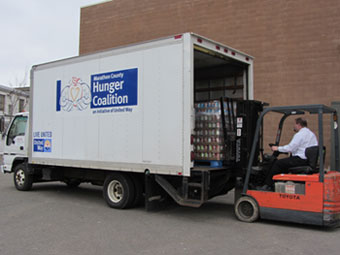 WAUSAU, Wis. (WSAU) – A generous donation has provided the Marathon County Hunger Coalition with a delivery truck to transport food.
Brickners, the BA and Esther Greenheck Foundation and an anonymous donor all put together to help get a used delivery truck for the Hunger Coalition. Chairman Dave Eisenreich says that will help all of the local food pantries get deliveries and food more efficiently. "In the past they've had to rent trucks, and now this will make it so they won't."
The truck will be available to all Marathon County food banks in the coalition, and Eisenreich says that means more food from farther away can be gathered. "We buy in bulk from Feeding America, and that food comes from Madison and Milwaukee. That's where it helps having the truck." They'll also be able to park the truck at local farmers markets and at other events to help collect food from food drives.
The truck has already been in use for several months, but the United Way had a public unveiling of the new signage on the side at a ceremony yesterday.