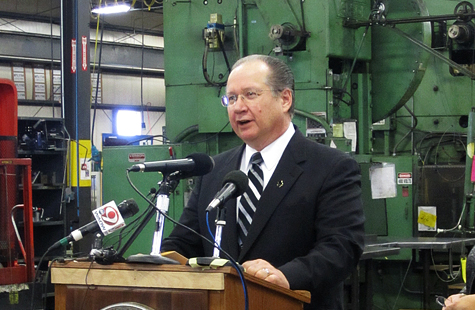 KRONENWETTER, Wis. (WSAU) – State Representative Jerry Petrowski will run for former Senator Pam Galloway's (R-Wausau) seat in a recall this spring.
"I believe that as your state senator, I will have the opportunity to have an even greater impact on our community and our families in central and north central Wisconsin," the Marathon Republican told a crowd of supporters at G3 Industries in Kronenwetter.
Petrowski will only have to resign his Assembly seat if he is elected, according to Government Accountability Board (GAB) spokesman Reid Magney.
Galloway had been facing a recall before she resigned Friday, citing family health issues. The GAB said the recall would continue despite Galloway's resignation. Candidates can begin circulating nomination papers March 30th and must turn them in by April 10th.
Medford Republican state Representative Mary Williams, who had also been considered as a possible candidate for Galloway's seat, decided against running and endorsed Petrowski instead.
"That's exactly what we need in the Senate," she said. "Someone who knows who to call, what to ask and how to make sure we get results here at home."
Because Petrowski is the only announced Republican, it appears the recall election will be held May 8th.
Democratic state Representative Donna Seidel of Wausau has already said that she will run for the seat.
"What they [voters] will find is that he has supported the same issues as Pam Galloway not just in the last year, but throughout his thirteen years in the state Assembly," Seidel said in a written statement.
Seidel said voters she has spoken with value education, health care and a return to open government. "Pam Galloway did not represent these values and neither does Jerry Petrowski," Seidel said.
The 61-year-old Petrowski is a former ginseng, dairy and beef farmer who is married with four children. Voters first elected him to the state Assembly in 1998 and have re-elected him every two years since. Petrowski is widely known for his work on transportation and rural affairs issues.