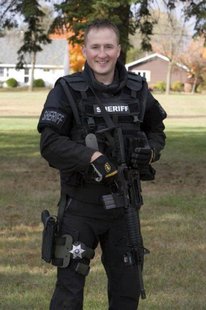 COLBY, Wis. (WSAU) – Sheriff's deputies and firefighters are mourning the loss of a volunteer firefighter who was killed yesterday fighting a fire in Abbotsford.
Authorities have identified the firefighter as 34-year-old Jamison Kampmeyer. He is survived by a wife and three young children. Funeral arrangements and a public memorial are pending.
"Our hearts and sympathies go out to Jamison's family and all the other persons whose lives he has touched," Sheriff Randy Hoenisch said in a statement.
The department made counselors available late Sunday for a critical incident stress debriefing, said Chief Deputy Scott Parks.
Kampmeyer was one of four firefighters who was injured when the roof collapsed at the Abby Theatre in Abbotsford. He later died at Ministry St. Joseph's Hospital in Marshfield.
Kampmeyer had been a sheriff's deputy since April 2004. He served as the EMT for the department's SWAT team and was also a field training officer who helped mentor new deputies.
Kampmeyer was also an instructor at Northcentral Technical College for the basic recruit academy and other police science programs.