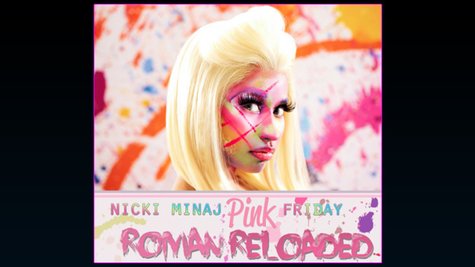 Nicki Minaj has unveiled the cover art of her upcoming disc Pink Friday : Roman Reloaded . The album cover features Nicki from the neck up, sporting blonde hair. Her face is covered in pink, green and orange make-up, and behind her a white wall is splattered with pink, orange, yellow and blue paint.
Speaking of covers -- Nicki will appear on the front of Allure 's April issue. Inside the magazine, she talks about her big business plans, saying, "I had a little conversation with Jay-Z at the Victoria's Secret fashion show. He said, 'Congratulations on all your success.' And I was like, 'Yeah, I'm coming for you. I'm coming for your spot, Mr. Mogul.'"
Pink Friday: Roman Reloaded will be out April 3. The upcoming issue of Allure arrives on newsstands March 20.
Copyright 2012 ABC News Radio