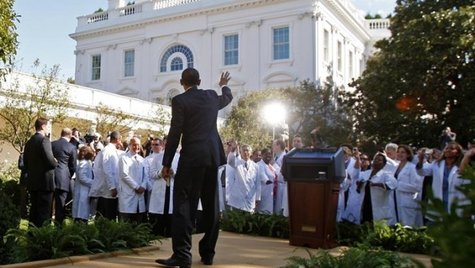 MADISON, Wis. (WSAU) - Wisconsin Republicans running for U-S Senate are carving out their position in the wake of the U-S Supreme Court upholding the affordable care act.
All four candidates have long said they'll work to repeal the law if elected and today sent statements reinforcing that position. Tommy Thompson, who served as the U-S Health Secretary, says unlike his opponents he has "ideas and experience to actually bring down health costs and increase availability." Assembly Speaker Jeff Fitzgerald touts his time in the state legislature saying he'll repeal the law, "Just as I led the fight to kill the Democrat's $18 billion 'Healthy Wisconsin' tax hike in Wisconsin. Former Congressman Mark Neumann says unless the law is overturned, "we're going to consign our children to a future of debt." Businessman Eric Hovde says, "Regrettably, the Supreme Court failed to uphold the Constitution today."
Each one is hoping to be the next Republican that Wisconsinites vote into a U-S Senate seat. In 2010, Ron Johnson defeated Democratic incumbent Russ Feingold. Johnson was businessman who says the reason he ran for office was to fight the health care overhaul.
On the Democrats side, Tammy Baldwin is running for the seat of vacating Senator Herb Kohl. She supports the high court ruling adding justice appointed by both parties upheld the law. She says, "It is now time to come together and make this work."