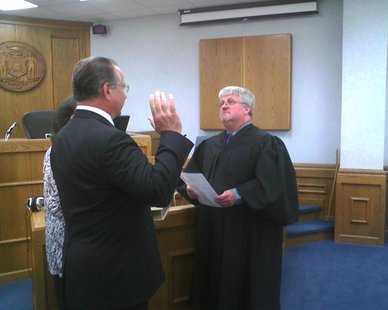 WAUSAU, Wis. (WSAU) – Jerry Petrowski was officially sworn in today as the new State Senator of the 29th District.
Petrowski says the biggest change will likely be the size of the district. "I used to have 23 towns, 9 villages and one city. Now I have 132 total. But I think it'll give me the opportunity to work with a lot more people." He says that he'll start making the trips out to visit all those places soon, and joked about having a lot more meetings to attend.
Petrowski also called on lawmakers to get back to discussions in the Senate, and said he'll work to help generate discourse. "I think you create that atmosphere by one person at a time, building friendships, building relationships."
Petrowski won the race for the 29th state senate district by a 2 to 1 margin over state representative Donna Seidel on during the state recall elections earlier this month.