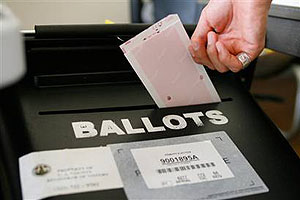 MADISON (WSAU) The Government Accountability Board denies a request by the Van Waanggard camp to have several votes thrown out. The campaign of the Racine Republican state Senator says these votes shouldn't have been counted as some persons did not properly sign poll books when collecting a ballot. Campaign spokesman Justin Phillips says duplicate voter numbers were also found.
The G-A-B says the votes should still be counted because the error was made by poll workers, not voters.
Senator-elect John Lehman's spokesman Brad Wojciechowski says the complaint filed by the Waanggard campaign was just an attempt to disenfranchise voters in the 21st district. Waanggard requested the recount after being narrowly defeated in the June 5th recall by the Democrat Lehman.
If Lehman is confirmed as the winner, democrats would have a one-vote majority in the state senate. It's unclear if they'd get to use it. The legislature isn't scheduled to be in session until the fall elections, and the GOP hopes to take back control in-part because of more favorable redistricting lines that will be in effect then.