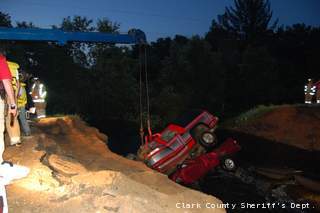 CLARK COUNTY, WI (WTAQ) - Clark County authorities now say a 50 foot stretch of roadway near Greenwood washed away – and three motorists were killed when two vehicles drove into that hole.
A pickup truck with two people inside crashed into the hole – and so did another vehicle with one person in it.
Chief Deputy Jim Backus said a passer-by discovered the wreckage and called 911 around 1:35 a.m. Thursday. But he said it's not clear exactly when the accidents occurred – and investigators could not say if it was raining at the time.
All 3 victims were pronounced dead at the scene, and there were no survivors.
The National Weather Service said Clark County had 1-2 inches of rain in the 24 hours ending at 7 a.m. Thursday.
The three deaths were the first in Wisconsin to be blamed on the massive rain storms that dumped up to 6.5 inches of rain in the far north on Tuesday and Wednesday – and up to 10 inches in nearby Duluth Minnesota.